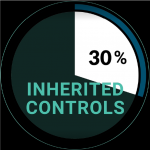 ControlCase now certifies MSPs to multiple regulations including PCI DSS, ISO 27001 and SOC 2 using our Compliance Hub plugin, so you no longer have to leave your ConnectWise login to manage your assessments and certifications.

Even better: Your clients can then inherit at least 30% of your controls, cutting their audit prep time and costs by up to 50%, making you the most attractive provider in the market.
As an MSP, you are tasked with the responsibility to secure your environment and protect client data. Achieving compliance with regulations such as SOC 2, ISO 27001, PCI DSS and HIPAA provides a great benchmark for your security programs, demonstrates that you care about protecting customer data AND provides unique competitive advantage.
CONTROLCASE COMPLIANCE HUB & CONNECTWISE MANAGE
The ControlCase Compliance Hub "tab" can be added to an organization's client record within ConnectWise Manage. Security and compliance updates are then provided in real-time and include vital statistics such as risk rating and compliance reporting. ControlCase Compliance Hub will also provide security milestone planning, regulatory compliance status, and an overall holistic view of the security and compliance journey undertaken by a company. Giving you an entire compliance program at your fingertips. The result is a seamless solution for your Certification or Attestation of Compliance to SOC 2, ISO 27001, PCI DSS or HIPAA.
Simplified Assessments for you
The best part is, you and your clients will access ControlCase Compliance Hub without ever needing to leave ConnectWise, a platform that you are already familiar with. This approach will not only simplify your assessment and get you certified quicker BUT it will also provide efficiencies to your clients and bring in additional revenue for your business.
Inherited Controls for your clients
Once you are certified to a standard using ControlCase Compliance Hub in ConnectWise Manage, your clients can inherit at least 30% of your controls and cut their audit preparation time and cost by up to 50% – making you the most attractive MSP for their business. Additionally, you increase your revenue as the obvious choice to assist them with any remediation required for their assessment.
About ControlCase
ControlCase is a global provider of certification, cybersecurity, and continuous compliance services. ControlCase is committed to empowering organizations to develop and deploy strategic information security and compliance programs that are simplified, cost-effective, and comprehensive in both on-premises and cloud environments. ControlCase offers certifications and a broad spectrum of cyber security services that meet the needs of companies required to certify to PCI DSS, HITRUST, SOC 2 Type II, ISO 27001, PCI PIN, PCI P2PE, PCI TSP, PA DSS, CSA STAR, HIPAA, GDPR, SWIFT, and FedRAMP.
About ConnectWise
ConnectWise is an IT software company that empowers Technology Solution Providers to achieve success in their As-a-Service business with intelligent software, expert services, an immersive IT community, and a vast ecosystem of integrations. The unmatched flexibility of the ConnectWise platform fuels profitable, long-term growth for our Partners. With an innovative, integrated, and security-centric platform, ConnectWise enables TSPs to drive business efficiency with business automation, IT documentation, and data management capabilities. And increase revenue using remote monitoring, security, and backup disaster recovery technologies. For more information, visit ConnectWise.