Card Data Discovery Software
Finding credit card data is one of the key and initial steps needed for compliance with the Payment Card Industry (PCI) Data Security Standard (DSS). The standard clearly prohibits storage of card holder data (CHD) in an unencrypted manner.
ControlCase Card Data Discovery software addresses this key need of Credit Card Data Discovery and was one of the first comprehensive scanners that not only searches for credit and debit card data on file systems, but also in most commercial and open source databases, and all this searching is done WITHOUT installing any agents on any scanned system. We scan the whole enterprise from one location.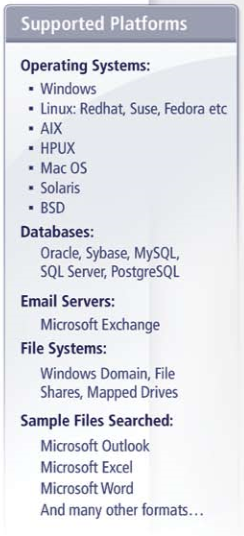 Our Card Data Discovery software very rapidly helps define the scope of a PCI assessment or certification and helps concentrate the efforts of the assessment. It usually is an eye-opener for many organizations that are surprised by the unintended proliferation of credit card data within organizations once we scan their environment. This Card Data Discovery software helps organizations control the storage of the data or implement means to encrypt the data.
ControlCase Data Discovery software has been used to scan PETABYTES of data on hundreds of thousands of servers, desktops and enterprise databases globally. It is reliable, has an extremely low impact on system resources and has been used globally for 5 years now by thousands of organizations to meet PCI DSS compliance.
Key Features for the Enterprise version
Find unencrypted cardholder data (CHD) in common types of files – Word Documents, Excel Spreadsheets, PDF, ZIP files etc.
Find credit card data in Network shares, File servers, Storage Area Networks (SAN), Network Attached Storage (NAS), Removable drives, USB/Flash drives and other common storage areas
Advanced false positive management – reduce the number of false positives significantly
Find credit card data across the WHOLE network and Active Directory domains from one location. CDD needs Microsoft Active Directory (AD) or Domain level credentials and using those credentials, you can search for card data on desktops, laptops, servers etc all from one location.
Convenience of searching from one place, no need to go to each desktop/laptop to search for data
Agent-less – No need to install or manage agents on each asset (desktop, laptop, server) that you are trying to scan
Find credit card data in most popular commercial and open source databases such as Oracle, SQL Server, Sybase, MySQL, PostgreSQL etc.
Extremely fast and uses very few resources – network or CPU resources
Find TRACK1, TRACK2, CVV, PIN, PAN data
Schedule your Credit Card Data Discovery to run every week, month, quarter – scan the whole enterprise continuously
Free Desktop Version
Download a FREE copy of the ControlCase Card Data Discovery Desktop Edition software, which allows you to search your desktop or laptop for Credit and Debit Card data.
Enterprise Version
Our Enterprise version has numerous features befitting an Enterprise offering, including searching all your computers from one location and searching in Databases. The enterprise version also has significant false positive management capabilities.
Click here  to know more about the difference between the various versions.