Constant Compliance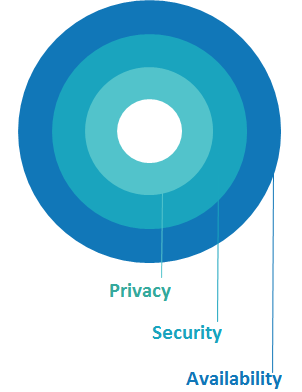 While standards such as PCI DSS, ISO and SOC provide a benchmark for protecting data, criminals are always on the hunt for security vulnerabilities and malware to exploit organizations.
Constant Compliance is focused exclusively on understanding your environment and providing solutions that seamlessly integrate security and compliance into your business as usual activities.
In simple terms, it is a rating of your IT system based on three major categories: security, privacy and availability. It is explicitly aimed at a non-IT specialist audience, so that the Board can understand how secure and compliant your company's IT systems are.
The Value Proposition
Constant Compliance will use compliance as a lens to see how vulnerable your systems are to a breach. The average cost of a data breach is $3.6 million. Companies face 27.7% chance of a recurring material data breach over the next two years.
Constant Compliance aims to capitalize on your current compliance and security investment by actually monitoring and analyzing the data you collect. We will tell you how you can to avoid breaches and what it will cost to do so using this data.
Not only will it help you reduce your system's vulnerabilities, it should also help you prepare for your Sarbanes-Oxley audits. For example, if we find significant problems in availability of your systems, we will tell you how to fix that before the auditors come in.
What is Constant Compliance?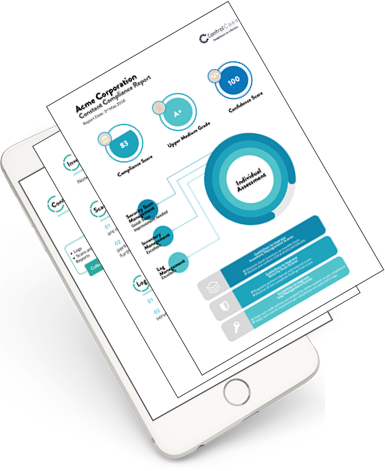 There are two major components of our final deliverable that we will present.
First, we provide an easy-to understand score of your system. It is very much like a bond rating, except for your security system. As part of this, we will also rate your company in the three major categories: security, privacy and availability.
Second, beyond just the rating, we also provide a remediation plan to decrease the chance of breaches. This will include estimated costs so that you can you prioritize your spending. This is real data that can be used to justify your security budget.
Nothing like it in the market
There is no product like this available on the market. While companies offer third-party reviews, or look at external factors, we use your own data and logs to examine your vulnerabilities.
After more than a decade's worth of experience with over 1,000 customers, we understand where and why IT systems are vulnerable. We also base our rating and all of our recommendations on the data, which we believe is a much better indicator of strengths and weaknesses than other methods.
We are building this new product from scratch with the goal of letting non-IT specialists easily understand their company's IT strengths and weaknesses. We promise: No jargon, no hard-to-understand terms.
Limited time and effort needed from your side
Time needed on your side is minimal. We expect it will take about a month, from start to finish, with almost all the work on our side.
We promise to keep our data requests minimal and generally what you already have, including raw data that needs no formatting.
Our system has an automatic accept/reject so that when you are uploading or linking your data, you will know immediately whether it is accepted. This means there will be no annoying back-and-forth that will take up your time and increase your frustration.