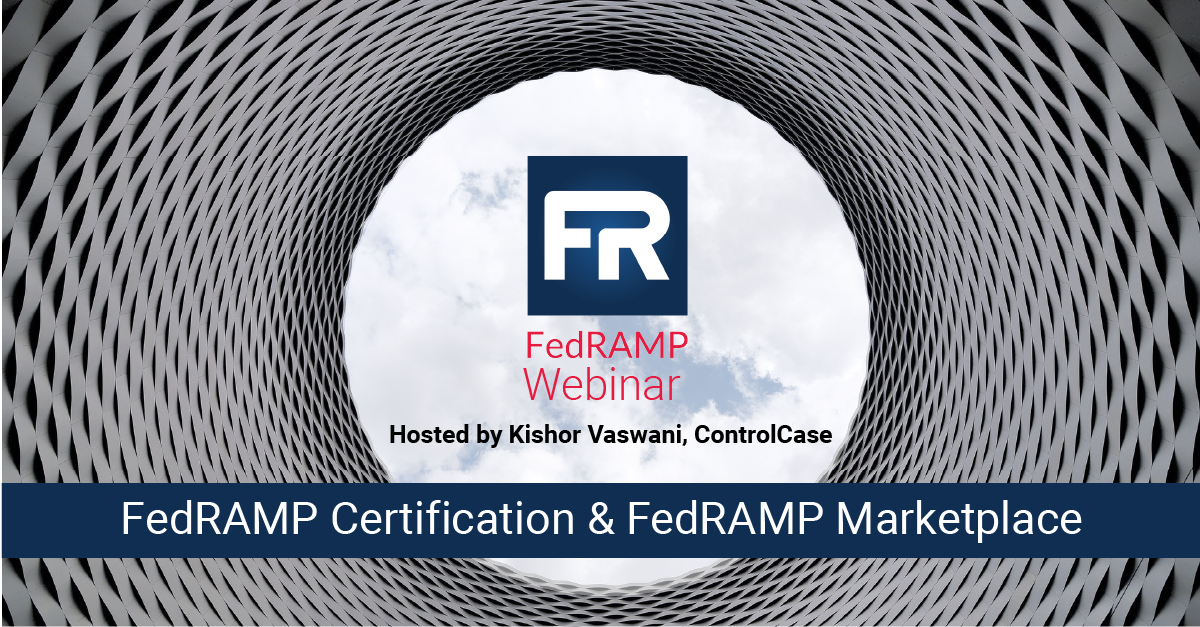 FedRAMP Certification & FedRAMP Marketplace Webinar
Presented by Kishor Vaswani, this webinar details FedRAMP and FedRAMP Marketplace from an overall perspective.
All registrants receive an email with the content slides as well as a link for later viewing once the live webinars are complete.
This event is offered in 4 global time zones.
When: July 15, 2021 11:00 AM - 11:30 AM
Where: //www.slideshare.net/slideshow/embed_code/key/iVvQyiGtB2vwT6
In this 30 minute webinar ControlCase discussed the following:
What is FedRAMP?
What is FedRAMP Marketplace?
Who does FedRAMP apply to?
How hard is it to get FedRAMP certified?
How long does the FedRAMP process take?
How to get FedRAMP certified?
ControlCase methodology for FedRAMP compliance
The United States Federal Risk and Authorization Management Program, FedRAMP, is a rigorous security compliance framework. It accelerates of the adoption of cloud computing platforms by creating clear standards for security authorizations.
ControlCase is a FedRAMP Third Party Assessment Organization (3PAO). This means that ControlCase is authorized to assist cloud providers in achieving FedRAMP compliance.
Additionally, it verifies that ControlCase has the technical competence required by FedRAMP to assist cloud providers in achieving FedRAMP certification. FedRAMP-authorized cloud providers are then listed on the FedRAMP Marketplace.
Check out our other FedRAMP Resources
FedRAMP Resource Guide
FedRAMP Compliance Checklist
BLOG: What is FedRAMP?
ControlCase, the global leader in Compliance as a Service, has successfully assisted thousands of clients worldwide in becoming compliant with and/or certified to various security standards and regulations in a cost-effective and optimal manner.
Under Kishor Vaswani's leadership, ControlCase has transformed the way customers manage their compliance and certification programs through the company's leading technology solutions. He has successfully led the company's expansion in the security and compliance industry through technology innovations. During his tenure, ControlCase expanded its footprint to more than 1,000 customers across 40 countries, including offices in the US, Canada, UK, Columbia, Dubai and India. He is one of the few industry leaders who has taken a company from inception to rapid global expansion and is a recognized leader in compliance.
Kishor founded ControlCase in 2004 after working with Ernst & Young for many years and noticing a need for automation in compliance. He has over 20 years of experience in IT security, IT controls and compliance. Kishor has spoken on numerous occasions at various industry forums including PCI Security Standards Council, ISACA and MasterCard. Kishor has a bachelor's degree in Computer Science and an MBA from the University of Maryland.